© Mayhew International
Written by Samantha Lade, DonateToday
Animal welfare charity announce they have successfully neutered 70,000 dogs in northern Indian city to help control dog population
Animal welfare charity announce they have successfully neutered 70,000 dogs in northern Indian city, to help control dog population
Mayhew International and HOPE and Animal Trust team have reached an incredible milestone by neutering 70,000 dogs in Ranchi, northern India, in just nine years.
The feat was achieved when 40 dogs were neutered on World Spay Day, which fell on the 27th February this year.
Neutering offers a humane and permanent solution to unwanted litters and the chronic over population of companion animals in the area, say animal welfare charity Mayhew.

The benefits of neutering include improving a dog's health by reducing or eleminating the risk of certain cancers and other diseases, as well as reducing the development of unwanted behaviours such as roaming, spraying and fighting with other dogs and cats.

Mayhew International has been funding a systematic Animal Birth Control and Vaccination programme with HOPE since 2008.
The accomplishment of neutering 70,000 dogs goes a long way to containing and controlling the free-roaming dog population in the city of Ranchi.
It also works towards Mayhew's goal of a safe and secure environment for both dogs and people in the region.
Mayhew International have funded a Community Education Officer for HOPE since 2014, who goes out into communities and schools in Ranch, to educate children and adults on compassion towards animals, rabies prevention and the benefits of neutering.
Mayhew's CEO, Caroline Yates, said: 'We believe that educating communities is the key to spreading the word about rabies prevention, safe interaction with community dogs, compassion towards animals and the benefits of neutering.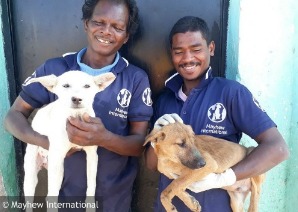 Mayhew International workers posing with some of Ranchi's finest neutered dogs
'In recent years there has been a huge reduction in the number of recorded cases of canine-mediated rabies in humans in Ranchi City resulting in zero recorded cases in 2017.
'This shows the impact of our programme and the intensive rabies vaccination drives of Mission Rabies with whom we collaborate.'
Last year, Mayhew International neutered 11,943 dogs and 1,232 cats across the globe.
Tell your own story
Whether you're a charity or simply a person who has a similar story about charitable acts. We'd love to hear about them.
Find out more