©
Written by Editorial Team, DonateToday
His confidence was at rock bottom as he struggled with undiagnosed autism - but now, a Coventry-based charity has helped teenage boy feel like he's 'living again'
His confidence was at rock bottom as he struggled with undiagnosed autism – but now, a Coventry-based charity has helped teenage boy feel like he's 'living again'
Young Ben struggled during his education and moved schools five times
He often retreated to his room, as his undiagnosed autism made him anti-social
Thanks to Grapevine, Ben was able to find a passion for engineering
He's now on track to achieve five GCSEs and takes part in community activities
After struggling with undiagnosed autism, Ben is now focused on a career in engineering
Frustrating and challenging.
This is how life before Ben's diagnosis of autism in his mid-teenage years could be described. Year 7 and 8 were when the youngster truly started to 'hit bottom' – he had already been through five mainstream schools, and his mother, Dawn, had given up work to support her son.
'I gave up Scouts, everything and wouldn't leave my room,' says Ben, speaking of them difficult years.
Dawn also recalls just how tough them times were. 'It was always: Ben has been sent home, can you come and pick him up? Ben's flipped the table. Ben swore at a teacher. Ben has been sent out of the classroom.
'We were trying to put him into a box that people had told us that he had got to fit into. But, we knew in our hearts of hearts that he would never fit into that box.'
"It was always: Ben has been sent home, can you come and pick him up?"
- Dawn, Ben's mother
However, the pair soon came across an event being held by Grapevine – a charity based in Coventry and Warwickshire, who assist disadvantaged individuals struggling with poverty, isolation and learning disabilities, to give them a better chance in life.
They believe that no one should be stigmatised or labelled and work particularly hard to find employment and create networks for all individuals, believing 'everyone has something to offer.'
Dawn recalls the day of the event very fondly: 'On that afternoon it felt like we were breathing again. And we could see – we were living again, really.'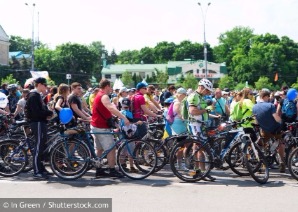 Ben also takes part in 'Slow Roll' community cycles with Grapevine, where no one gets left behind from the group
Ben has since been introduced to a creative engineering company called Imagineers, who he works on various projects with. He has also decided that he wants to be an engineer in the future – and is on track to land himself 5 GCSEs this summer.
Thanks to Grapevine, he has also taken part in several group activities, such as community cycle rides and swimming events. Ben is thriving thanks to the connections and opportunities that have been offered to him through the service.
"Look at me now. I'm not that piece of rubbish."
- Ben
'I really like Imagineers, I'm good as gold and I don't swear,' explains Ben. Speaking of his other activities at Grapevine, he says: 'It's CV worthy – my school record is pretty dire. All of that other stuff says, "that was him." But look at me now. Meet me. I'm not that piece of rubbish.'
Having now returned to work, Dawn believes that the day their family found Grapevine was the beginning of a new chapter of all of their lives.
Looking to Ben's future, she remarks that 'whatever route he goes down post-16 – we know we'll get through it.'
Please note that names may have been changed to protect the privacy of those involved. Images are used for illustrative purposes only and, unless specified, persons included in images are posed models, not the persons mentioned in the article.
Tell your own story
Whether you're a charity or simply a person who has a similar story about charitable acts. We'd love to hear about them.
Find out more