© loreanto, Shutterstock.com
Written by Samantha Lade, DonateToday
International Men's Day 2017: The shocking stats about men's health which suggest this year's event is more important than ever before
International Men's Day 2017: The shocking stats about men's health which suggest this year's event is more important than ever before
Frightening figures show suicide is the biggest killer of British men under 45. (Models pictured)
Did you know that on average, men are dying six years younger than women? Or, that three-quarters of UK suicides are male? This Sunday marks International Men's Day for this reason – to make people aware of such startling statistics.
How It All Began...
It's perhaps common knowledge that International Women's Day falls each March. In fact, the global event has now been celebrated for over a hundred years, with the first recorded celebrations dating right back to 1909.
Yet perhaps not so common, is knowledge of International Men's Day.
Originating just 18 years ago in Trinidad and Tobago, the creator of the event Jerome Teelucksingh realised that whilst Father's Day existed, there was no other days recognising young boys, teenagers, or men who weren't parents.
No day to celebrate the contribution men in our families make to society. But most importantly, no awareness day to highlight the mental and physical issues that men are facing in modern life. And so, International Men's Day was born.
IMD falls on the 19th November every year. But the fact remains that men's issues continue to need attention bringing to them – perhaps now more than ever.
"Men die an average SIX years younger than women worldwide – for reasons largely preventable."
Movember Foundation | 2017
The Dangers of 'Manning Up'
Would you be surprised to learn that suicide is the biggest killer of men under 45 in the UK? And that on average, one man takes his own life every two hours?
These figures come as a shock to many.
Being told to 'man up' and the implications lurking behind this phrase have long been a part of the problem, suggests mental health charity CALM. They recently discovered at least 8 in 10 men believe they 'bottle up' their own emotions.
One of the organisation's key goals is to change the current culture preventing men from seeking help when they most need it, by destroying social stigmas.
CALM's most recent campaign #DontBottleItUp, fronted by reality TV star Chris Hughes, aims to tackle the issue of men's mental health head on, by encouraging men across the UK to open up and discuss their feelings.
As well as campaigning, the charity also offer online anonymous helplines and webchats, to help men who are struggling with their mental wellbeing.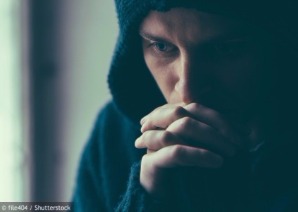 CALM aim to change a culture still forcing boys to 'man up'. (Model pictured)
A Pain in the Nuts?
As suggested by the Movember Foundation, many of the reasons contributing to men's shorter life expectancy are preventable. The issues just need greater exposure, and to be spoken about more widely in every day life.
This is why charity Baggy Trousers are also working tirelessly to raise awareness of testicular cancer.
Currently, survival rates are good. 19 in 20 men survive testicular cancer. But Baggy Trousers continue to fight for a world where action is always taken early –especially as testicular cancer is so prevalent in under 35's.
The charity is in fact survivor-led by founder Jack Broadley, who battled and overcame this disease in his early 20's.
Testicular cancer is a highly treatable disease, providing it is caught early. Baggy Trouser's #CheckYourNuts campaign aims to bring about levels of awareness similar to that of breast cancer, to get men checking themselves more regularly.
"In the last six years, the no. of men admitted to hospitals for eating disorders increased by 70%."
NHS Digital Data | 2017
Challenging 'Masculinity'
If you were told to picture a sufferer of an eating disorder, it's likely you'd picture a teenage girl, who's in great distress at the appearance of her own body.
But in fact, a quarter of all those affected by an eating disorder are actually male.
Men Get Eating Disorders Too (MGEDT) are another organisation on a mission to raise awareness around this issue. Their National Conference takes place tomorrow, just two days before International Man's Day, where professionals from across the board will speak about men and eating disorders. It's being live-streamed on Facebook, too.
Their goals are twofold. The first, to provide help to any men suffering with an eating disorder. The second, to again break any stigmas surrounding ideas of masculinity that men can't suffer from eating disorders, too.
So with International Men's Day just around the corner, it is important to keep in mind the values of equality, and the tireless effort these charities are putting in to men's physical AND mental issues right here across the UK.
And most importantly – to all the men out there, remember to ask for help if you need it. It's okay to not be okay.
Tell your own story
Whether you're a charity or simply a person who has a similar story about charitable acts. We'd love to hear about them.
Find out more