© Aptaclub
Written by Samantha Lade, DonateToday
GET INVOLVED – Made In Chelsea's Binky shows support for mothers with cancer this Christmas by 'wishing on a star' for her baby girl
Made In Chelsea's Binky shows support for mothers with cancer this Christmas by 'wishing on a star' for her baby girl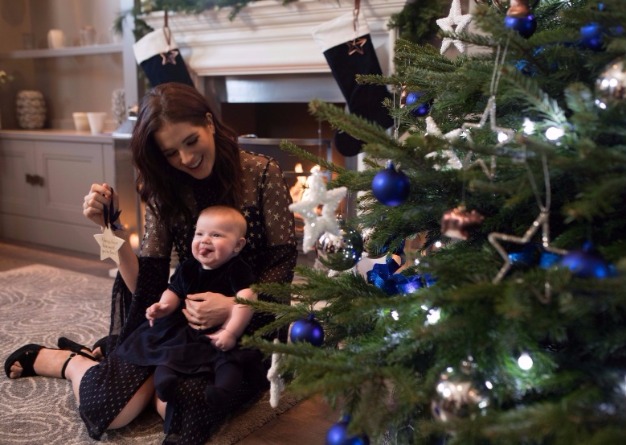 Aptaclub and Mummy's Star have joined forces to raise awareness of cancer and pregnancy with their festive campaign
Reality star Binky Felstead got into the Christmas spirit yesterday by placing a handcrafted 'wish' for her daughter upon her Christmas tree – helping to launch Aptaclub's Christmas Wishes campaign.
The Christmas campaign encourages parents to 'make a wish' for the future of their little ones – whether that be for bumps or for little babies themselves.
When parents share their wishes to Aptaclub's Facebook or Instagram accounts, they're entered to win one of 50 personalised wooden stars which are engraved with their very own Christmas Wish for their child.
Aptaclub's campaign comes in support for Mummy's Star – the only charity in the UK and Ireland who are dedicated to women and their families affected by cancer, either during pregnancy or after giving birth.
Mummy's Star was founded in memory of Mair Wallroth – who passed away just two months after the birth of her second child at the age of 41.
Lesley-Anne Cohen of Aptaclub – a baby club offering advice and guidance for mums – says: 'We're incredibly proud to have joined forces with Mummy's Star for the Aptaclub Christmas Wishes campaign.
The Made In Chelsea star adds her personal wish for baby India to her Christmas tree
'The team there take great care to help pregnant women and new mums fighting cancer. We're delighted to be supporting and raising awareness of the inspiring work they do.'

With her beautiful baby India in her arm, Aptaclub ambassador Binky placed her own star on her glittering Christmas tree in full support of the cancer charity.
And her wish for her smiley six-month old? "Always know how much you're loved."
Speaking at the event, the beaming Made In Chelsea star explained: 'Josh and I will only ever wish for India to be happy and healthy in the future and hope she knows just how much we love her.
Binky and her partner and co-star JP welcomed India to the world in June of this year
'I'm supporting Aptaclub's Christmas Wishes and Mummy's Star – it's lovely to be celebrating motherhood with others, we can only wish our children grow up to have a wonderful life and never take anything for granted.'
Please head here to share your Wish, and to be in with a chance of winning your own handcrafted ornament from Aptaclub this December.
Tell your own story
Whether you're a charity or simply a person who has a similar story about charitable acts. We'd love to hear about them.
Find out more