©
Written by Editorial Team, DonateToday
'My PTSD cost me everything': After witnessing horror at war and losing his son at birth, a vital diagnosis turned veteran's life around just in time
'My PTSD cost me everything': After witnessing horror at war and suffering the loss of his son at birth, a vital diagnosis turned veteran's life around just in time
James served in the army from the age of 17, fighting in the first Gulf War
A horrific friendly-fire incident and the death of his baby son triggered his PTSD
Surge seen in veterans seeking help for mental health as cases quadruple over past 20 years
But treatment by charity is acting as lifeline for 6,000+ suffering British soldiers
James joined the Royal Artillery as a teenager and fought in the first Gulf War from the age of 22 onwards
For many young servicemen and women joining up to the army, the threat of post-traumatic stress disorder (PTSD) is very real.
The anxiety condition is caused by witnessing scarring or distressing events – which occur in their many on the battlefield – and usually lead to severe and persistent symptoms such as nightmares, flashbacks and emotional numbing.
However, research continues to shows that a century-old stigma surrounding the disorder remains the greatest barrier as to why many sufferers may choose not to seek help, but to fight these symptoms alone.
For a 17-year-old James, joining the Royal Artillery was a dream come true. Just five years later, he was sent to the first Gulf War to fight for his country.
But during his time in the middle east, a terrifying incident unfolded when he got caught up in a 'friendly-fire' incident. Challenger tanks from his own side mistook his men for the enemy, and attacked.
'There were guys on fire jumping out of vehicles,' recalls James, speaking to Combat Stress. 'There were shells raining down around our tank.
'I was very afraid but I also felt very much alive. We were lucky because there were some burns and injuries but we didn't lose anyone'.
"In my dreams, I saw the friendly fire incident, black smoke pouring from oil wells and body parts."
- James
This incident long remained in James' memory. But seeing body parts and the constant fear of being under attack were the daily horrors James was used to, eventually becoming norms.
Sometime later, James went AWOL after being refused leave to attend the birth of his first child. However, tragically, he and his partner suddenly lost his son at birth. It was this event that fully triggered James' PTSD.
'Everything just spiralled out of control after that,' he explains.
'I was very self-destructive. I cut myself off from family and friends. I had sleep deprivation and night sweats. In my dreams, I saw the friendly fire incident, black smoke pouring from oil wells and body parts.

'I was depressed and I had violent outbursts. [PTSD] cost me everything, my career, my girlfriend.' But for years, James continued to fight the condition alone.
Over the last 20 years there has been nearly a fourfold increase in the numbers of veterans seeking support from a UK national mental health charity.
Combat Stress | 2015
It was over a decade since he'd returned from Iraq when James was finally referred to Combat Stress, where he was diagnosed with the mental health problem he'd been suffering in silence with for so long.
'Since I contacted Combat Stress I've almost done a 180. They told me I had PTSD, and they've put a lot of things into perspective,' said James.
The help provided to James by the charity – including counselling at one of their treatment centres which uses a range of therapy, training and activities – have helped to relive the often complicated and long-standing difficulties resultant of mental health issues that our returning servicemen so often face.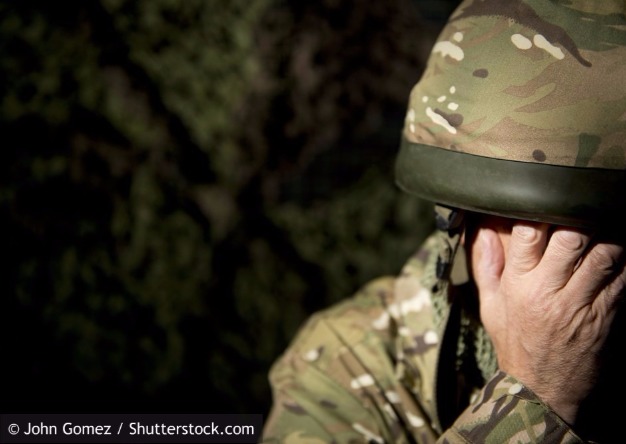 James had to come to terms with his diagnosis, years after he'd returned home from war
Stories like that of James' are not unique; research by the charity shows that since 1994, there has been a fourfold increase in the number of referrals for UK veterans with mental health difficulties.
Not only this, but in the year of 2015 alone, Combat Stress saw a 26% surge in the number of new cases brought to them – meaning the charity is dealing with six new veterans asking for their help each day.
The charity is at its busiest in its 98-year history.
For James, the help from the charity has been completely invaluable towards his road to recovery. He has since built up a good relationship with his teenage son, as well as starting his own business and finding a girlfriend.

'I can't even say how much I owe Combat Stress,' says James. 'I'm a different person now. I'm a different man'.
Please note that names may have been changed to protect the privacy of those involved. Images are used for illustrative purposes only and, unless specified, persons included in images are posed models, not the persons mentioned in the article.
Tell your own story
Whether you're a charity or simply a person who has a similar story about charitable acts. We'd love to hear about them.
Find out more