© Muntada Aid
Written by Editorial Team, DonateToday
The devastating result of chemical attacks and civil warfare: Meet Syria's generation of lost children being left mentally scarred and suicidal
The devastating result of chemical attacks and civil warfare: Meet Syria's generation of lost children being left mentally scarred and suicidal
The catastrophic conflict in Syria continues to ravage war-torn state for sixth year straight
Millions of innocent young children are being left mentally tormented from horrors of war

Victims of vicious chemical attacks have been seen foaming at the mouth, unable to breathe
Humanitarian charities are now rushing to provide psychotherapy to the deeply traumatised youngsters who have fled these hellish scenes
The devastation caused by the calamity of civil warfare is quite simply unimaginable. Living in a war-zone plagued by the routine sounds of bombing, shelling and distant screams is no environment for a child to grow up in.
In Syria, this is their reality.
Ahmed is just one of the 1,000,000 Syrian refugees who has sought solace across the border in Turkey
But at 2:30AM on 21 August 2013, all morals were obliterated as the unconceivable happened.

Rockets containing the highly toxic chemical sarin were launched upon Ghouta, Damascus, in one of the deadliest uses of chemical artillery since the 1980s. Often described as 'the most feared of chemical weapons', the lethal nerve agent sarin is tasteless, odourless and transparent in colour – essentially undetectable until it's too late.
Ghouta's communities rallied together, attempting to hose down the contaminated and save the dying. But, ultimately, the death toll stood at over 1,700 individuals, hundreds of which being helpless, innocent children.
Three-year-old Ahmed and his family narrowly survived the horrendous gas assault physically unharmed. But the psychological trauma suffered by young Ahmed was immediate and crushing. With the graphic symptoms of chemical attacks including foaming at the mouth, limb limpness, and breathing difficulties, Ahmed's mental torment was not surprising.
This is imagery small children should never have ingrained in their mind.
Over half a million Syrians who have crossed the border to Turkey have suffered from psychological trauma.
Muntada Aid | 2017
Eventually fleeing to Istanbul in July 2016 where the Farrah children enrolled at school, it was his teachers who voiced their concern about Ahmed's mental health as a result of the terrifying events he had seen. Anxious and aggressive, the youngster would lash out at those around him on a daily basis.
Ahmed even spoke of his wish to end it all. At just six years old, this young child was voicing suicidal thoughts.
Healing Little Hearts and Minds
Immediately, Ahmed was referred to the Broken Minds Project Therapy Centre, run by the Muntada Aid charity. Here, Ahmed was introduced to solo and group psychotherapy sessions, encouraging him to voice and process his deepest thoughts and emotions. He also developed a love of painting through the Centre's Art Therapy programme, using this to further express his feelings.
These much healthier outlets allowed young Ahmed to build up his confidence, and crucially, his trust of other children and adults at the Centre. Slowly, he began to leave behind the constant terror of being trapped in his own mind, consumed with memories of that life-changing night.
Many workers at the Centre have been touched by Ahmed's story, and those similar to his. 'These children have such a profound impact on you,' said Kabir Miah, Muntada Aid's Overseas Project Manager
'You see their bravery and you just admire them so much for everything they've been through. They are just like any other children back home in the UK.
'I don't know what would happen to these children if this centre wasn't here. They need treatment. They need our help.'
Ahmed has developed a love for art and enjoys painting through the centre's Art Therapy programme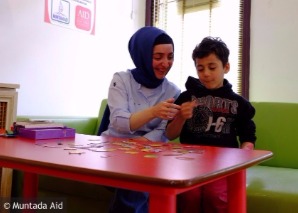 The youngster now has future ambitions to become a teacher, after once expressing suicidal thoughts
"I don't know what would happen to these children if this centre wasn't here."
- Kabir Miah
Today, the tragic situation in Syria rages on. Chemical attacks are no longer an unusual event – and the outcome of these assaults leave nothing but scenes of anguish and horror in their wake.
The mental health pandemic facing these young children fleeing from Syria is a very real crisis. Over half of the 1 million refugees crossing from Syria to Turkey are suffering from mental trauma. Deep psychological scarring could manifest into long term mental health issues for children like Ahmed.
We cannot fathom seeing the things he's seen. But we can help him begin to turn a new page in his life.
Muntada Aid and their various partners in the Middle East are working around the clock to slowly begin to ease the torment the atrocities of war have caused these young lives. Finally, Syrian children in Istanbul like Ahmed have a safe environment whereby they can begin to imagine a normal existence – one of freedom and hope.
With your help, Muntada Aid can continue all possible efforts and activities to begin to give back to these children the one thing they deserve: their childhood.
Please note that names may have been changed to protect the privacy of those involved. Images are used for illustrative purposes only and, unless specified, persons included in images are posed models, not the persons mentioned in the article.
About this charity
Muntada Aid
Founded
2013
Reach
Global
What they do
If you would like to support Muntada Aid to continue their excellent work, you can make a single or recurring donation by selecting your preferred method below. Our technology ensures that giving to a cause of your choice has never been easier or more secure – and can be completed in just a few simple steps.